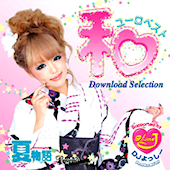 Natsu Monogatari presents Wa Euro Best -download selection-
Release Date: 8/12/09
Price: 1200-2550 yen
Wa Euro Best -download selection- is now up for sale on most major Japanese download services. It includes full versions of most of the songs from the CD, with the exceptions of "Bacchikoi" and the two Pachislot songs.
For those outside of Japan, your best bet is either iTunes or Music Ocean. Unfortunately, EMI added Wa Euro Best as a "Partial Album" on iTunes, so you can only buy the individual tracks. If you want to buy all 17 tracks, it'll be 2550 yen.
Music Ocean (Musico) does offer all 17 tracks as 320 kbps MP3s for only 1,200 yen. That may seem like a good deal, but I just had a horrible experience with them. In the past I've only downloaded single tracks from Musico and got ridiculously slow download speeds (5 kB/s). Luckily the downloads completed without cutting off. However, if you buy an album you get it as a freakishly large zip file, and you only get two chances to download it. Long story short: don't buy full albums from Musico. You're better off just getting the individual files that you really want.
01. [4:56] Shangri-La / Shihori
02. [3:37] Ai wo Torimodose! / DJ Kazma
03. [5:22] Sousei no Aquarion / Nagisa
04. [4:00] Samishii Nettaigyo / tears
05. [4:16] Wasureru Koto ga Setsunakute / tears
06. [4:01] True Love Forever / Rumi Itabashi
07. [3:44] Come On! (9LoveJ Remix) / Nagisa
08. [4:48] Omoide wa Yume no Naka / tears
09. [3:41] Banzai (Red Monster Hyper Mix) / Misa
10. [4:24] Koi Wazurai ~Natsu Toka Fuyu Toka~ / Sunplaza Nakano Kun feat. DJ Yossy
11. [4:39] Bye Bye Para Girl / Sunplaza Nakano Kun feat. DJ Yossy
12. [3:42] Hoshizora no Okurimono / Rumi Itabashi feat. Kazue Nakai
13. [4:17] Tamashii no Refrain / Miyabi
14. [4:15] United Force / Nagisa
15. [3:07] Cat's Eye / Miyabi
16. [3:43] Kinnikuman Go Fight! / Scamp feat. Nagisa
17. [3:36] Zankoku na Tenshi no These / Shihori