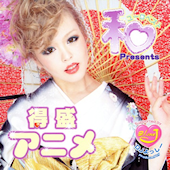 Wa Euro presents Tokumori Anime
Release Date: 12/8/10
Price: 1500 yen
A special, limited release featuring the best of Wa Euro anime covers. In other words, yet another excuse to reuse the same old repeats. "Tokumori" is used in Japanese restaurants to refer to and "extra large" portion of food, so think of this as an extra helping of Wa Euro. I suppose 1500 yen for a CD release isn't too bad, but after Premier Euro I don't see a need for yet another best-of compilation.
As I said, the CD saw extremely limited release, so you won't be able to find it on most online retailers. It looks like it won't be available digitally, either. What? If EMI can reuse the same old tracks, I can reuse the same old descriptions. 😛