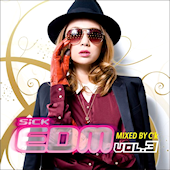 Sick EDM Vol. 3 mixed by C'k
Release Date: 2/11/15
Price: 1852 yen
Total Length: 1:01:35
Wow, this was unexpected. Originally planned as Sick EDM Best, this release has morphed into a proper Sick EDM 03 instead. And while the first two albums were full of familiar tracks, this one actually has quite a few that have yet to appear on other Japanese compilations. It's mostly composed of Spinnin' Records licenses, but there's also quite a bit of new material from Japanese artists, including a new collaboration between C'k and OHC. That said, they also decided to include "Booyah (Original Mix)" despite its appearance on Sick EDM 02 and pretty much every EDM album last year.