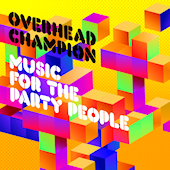 Music for the Party People
Artist: Overhead Champion
Release Date: 1/14/15
Price: 1852 yen
Merry Christmas! What better present than the final track list for OHC's new album, which he just posted on twitter along with the cover art. It's as incredible as one would expect, with collaborations from trance legends like DJ Kaya, DJ Minagawa, DJ Yoshinori, Glutton Boyz and DJ Kenny! Many of the collaborations are new 2015 versions of classics like "Holylance," "Jack Knife" and "Blue Force," so it'll be interesting to see how they've updated the sound. Also featured are some of his various singles over the past few years, including his last two singles with Avex, Blackout and Ready for Take Off. There are 19 tracks in all. Hopefully the album does well enough to reinvigorate the trance scene in Japan.
01. No Border / DJ Kaya & OHC
02. Mistake / Minagawa & OHC
03. Holylance 2015 / DJ Yoshinori & OHC
04. Ready for Take Off / Overhead Champion
05. Blackout / Overhead Champion
06. Grand Canyon 2015 / DJ Gen & OHC & Pandora
07. Forget-Me-Not / Overhead Champion
08. Vibes / DJ T2Y & OHC
09. Shine a Light (OHC Remix) / DJ Takuma feat. Angella Giustini
10. Wings / tAisuke & OHC
11. Inpulse / C'k & OHC
12. Jack Knife (2015 Exclusive Edit) / Glutton Champion Boyz
13. Summer Beach / Overhead Champion
14. Trance Sugeeenaaa Z / Overhead Champion
15. The Great Chopin / Overhead Champion
16. Sky / Overhead Champion
17. Tension / Overhead Champion
18. Blue Force 2015 / DJ Kenny & OHC
19. Possitive ~Music for the Party People~ / Overhead Champion
Pre-order at CDJapan.