Biography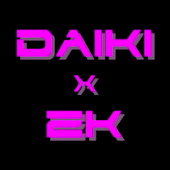 This talented duo consists of DJ Daiki (Daiki Wakabayashi) and ZK (Kazuhisa Hirota), both of whom have storied histories in the Japanese club scene.
The charismatic DJ Daiki has been working as a DJ and club promoter in Japan for years. He has spun in exclusive clubs ranging from axxcis to Air to ageha. He briefly dabbled in sound production in 2007, producing a handful of songs for Quake's Fantasista!! series.
Kazuhisa Hirota handles most of the actual sound production for Daiki × ZK, and ZK is just the latest of his many aliases. Born in the Fukuoka prefecture of Japan in 1979, Kazuhisa Hirota joined Shibuya's Club Atom as a resident DJ in 2005. While there, he met DJ Ten, and the two would go on to become frequent collaborators. In his early days, Kazuhisa produced trance and mainly went by the names Ace Closer and Cannon Cracker. As his fame spread, he was invited by more labels to do work for them, resulting in a bevy of aliases including: Spirtal Dirt, Hi-End Attack, Floorbreaker, and many more. As the trance boom drew to a close, he and DJ Ten formed the unit, Ladybird, which released a number of house and J-Pop hits from 2007-2010. In late 2010 he joined up with DJ Daiki to form Daiki × ZK.
Daiki and ZK made their debut in December 2010 on FARM's R&B Boutique -in the house- 2nd Collection with infectious electro covers of "Teenage Dream" and "Yeah x3". They would go on to appear on 12 more compilations in 2011. The year 2012 began with the release of two more hits, covers of "Party Rock Anthem" and "Born This Way." In July of 2012, Daiki × ZK released an entire mix album titled Crystal House ~R&B Party~. In addition to 6 brand new tracks, every single song they had done up to that point was included.
Selected Discography
\
Links
Daiki × ZK Official YouTube Channel
DJ Daiki Official Blog
DJ Daiki Official Twitter
DJ Daiki Official Facebook
ZK Official Twitter
ZK Official Facebook
Last Updated: July 12, 2012