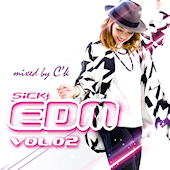 Sick EDM 02 mixed by C'k
Release Date: 10/1/14
Price: 1852 yen
New EDM release from Dreamusic and the second in the Sick EDM series. Mixed by C'k, who some may remember was a member of the J-Pop group, Shanadoo. I'm more than a little concerned that some of the tracks were already on the first Sick EDM, but maybe they'll use remixes?
01. Booyah
02. No Good
03. Toulouse
04. Get Loose
05. Animals
06. Take Over Control
07. Stop in My Mind
08. Stellar
09. Out of My Mind
10. NRG
11. Charger
12. Elysium
13. Wicked
14. Get Down
15. Ready for Action
Pre-order at CDJapan.