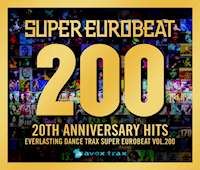 Wa Euro Best 2
Release Date: 12/16/09
Price: 1886 yen
The release of Wa Euro Best 2 is fast approaching and I'll be promoting the heck out of it until then. 😉
Eurobeat fans in Japan will be interested to know that EMI and Avex will be collaborating on an event promoting both Wa Euro Best 2 and Super Eurobeat 200 on January 10, 2010. The last time the two companies worked together was to promote Natsu Monogatari 2008 and 9LoveJ Super Collection.
In more WEB 2 news, the producers for the tracks have been announced. valle blanco will be responsible for the most tracks, with almost half of the album (9 songs) being done by him. DJ Command comes in a distant second with 3 tracks. Rayto only gets 2 tracks. Meanwhile, 2bad, Honmax, and plum(!!!) get one each. With Honmax confirmed, it's probably safe to say that "Para Holi" is the same song as the one from Natsu Monogatari 2007, except with Sunplaza Nakano Kun doing the vocals. There's no way he can do worse than Rina Ayukawa.
01. Ima Kono Toki Dake / Shin Yoshimune Soundtrack
02. Ai Oboete Imasu ka / Suzumi (Rayto)
03. Shuuketsu no Sono e / Miyabi (valle blanco)
04. Uchuu Senkan Yamato / DJ Kazma (DJ Command)
05. Cutie Honey / Nagisa (valle blanco)
06. Namida no Request / DJ Yossy (Rayto)
07. Days / DJ Kazma (DJ Command)
08. Tensai Bakabon / Rune (2bad)
09. Aitakunakute Aitakute / Nagisa feat. Scamp (valle blanco)
10. Giri Giri / Sunplaza Nakano Kun feat. DJ Yossy (valle blanco)
11. Para Holi / Sunplaza Nakano Kun feat. DJ Yossy (Honmax)
12. Anpanman no March / tears (valle blanco)
13. Shiny Summer ~Tomo no Natsu~ (9LoveJ Remix) / Gal-chin a.k.a. Tomomi Itano (AKB48) (valle blanco)
14. Treasure / Rumi Itabashi (valle blanco)
15. 1 Nichi (Mark Farina & The Factory Team Remix) / Misa
16. Ginga Tetsudou 999 / Scamp (valle blanco)
17. Choo Choo Train / Shihori (Plum)
18. Hana ~Subete no Hito no Kokoro ni Hana o~ / Shihori (valle blanco)
19. Kawa no Nagare no Youni / Nagisa (DJ Command)
20. Todoroke Dream / Osu! Bancho Soundtrack
Pre-order at CDJapan.