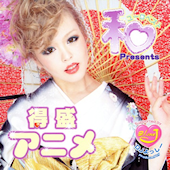 Wa Euro presents Tokumori Anime
Release Date: 12/8/10
Price: 1500 yen
A special, limited release featuring the best of Wa Euro anime covers. In other words, yet another excuse to reuse the same old repeats. "Tokumori" is used in Japanese restaurants to refer to and "extra large" portion of food, so think of this as an extra helping of Wa Euro. I suppose 1500 yen for a CD release isn't too bad, but after Premier Euro I don't see a need for yet another best-of compilation.
As I said, the CD saw extremely limited release, so you won't be able to find it on most online retailers. It looks like it won't be available digitally, either. What? If EMI can reuse the same old tracks, I can reuse the same old descriptions. 😛
01. Zankoku na Tenshi no These / Shihori
02. Lupin Sansei no Theme '78 / DJ Yossy
03. Cutie Honey / Nagisa
04. Ai wo Torimodose / DJ Kazma
05. Shangri-La / Shihori
06. Cat's Eye / Miyabi
07. Kinnikuman Go Fight! / Scamp feat. Nagisa
08. Anpanman no March / tears
09. Shuuketsu no Sono e / Miyabi
10. Uchuu Senkan Yamato / DJ Kazma
11. Sousei no Aquarion / Nagisa
12. Kizu Darake no Eikou / Scamp
13. Tamashii no Refrain / Miyabi
14. Days / DJ Kazma
15. God Knows… / Nagisa
16. Ai Oboete Imasu ka / Suzumi
Order Premier Euro at CDJapan.