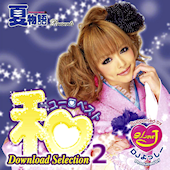 Natsu Monogatari presents Wa Euro Best 2 -Download Selection-
Release Date: 12/9/09
Price: 1200 yen
In a surprise move, EMI have released Wa Euro Best 2 -Download Selection- a week before the CD is set to come out. It includes full versions of the all the songs from the CD except the two Pachislot tracks.
For those outside of Japan, you can grab the album from the Japanese iTunes store (where it's listed as "Wa Wuro Best 2") or Music Ocean. Thankfully, this time you can buy the entire album on iTunes for only 1,200 yen, which is a heck of a deal.
I'll have track reviews up after I get the CD, but so far I'm very happy with most of the songs, "Para Horrible" aside (I think it may be worse than the Rina cover). There's a good deal of variety, and the fact that most of these songs are actually new this time really makes it worth the money. "Hana" in particular turned out wonderfully.
In the meantime enjoy the TV commercial: http://www.youtube.com/watch?v=o1Mt291pcyA
01. [4:38] Ai Oboete Imasu ka / Suzumi
02. [4:26] Shuuketsu no Sono e / Miyabi
03. [3:42] Uchuu Senkan Yamato / DJ Kazma
04. [4:25] Cutie Honey / Nagisa
05. [6:18] Namida no Request / DJ Yossy
06. [3:49] Days / DJ Kazma
07. [4:50] Aitakunakute Aitakute / Nagisa
08. [4:18] Giri Giri / Sunplaza Nakano Kun feat. DJ Yossy
09. [4:54] Para Holi / Sunplaza Nakano Kun feat. DJ Yossy
10. [4:06] Anpanman no March / tears
11. [3:56] Tensai Bakabon / Rune
12. [4:41] Shiny Summer ~Tomo no Natsu~ (9LoveJ Remix) / Gal-chin a.k.a. Tomomi Itano (AKB48)
13. [4:09] Treasure / Rumi Itabashi
14. [4:49] 1 Nichi (Mark Farina & The Factory Team Extended Remix) / Misa
15. [4:11] Ginga Tetsudou 999 / Scamp
16. [3:26] Choo Choo Train / Shihori
17. [3:43] Hana ~Subete no Hito no Kokoro ni Hana o~ / Shihori
18. [3:59] Kawa no Nagare no You ni / Nagisa