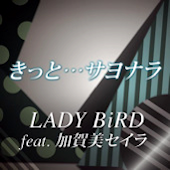 Kitto…Sayonara (Single)
Artist: Lady Bird feat. Seira Kagami
Release Date: 6/9/10
Price: 200 yen
The duo comprising DJ Ten and Ace Closer have remade one of their songs from last year with a new vocalist. "Kitto…Sayonara" was originally performed by Sara, but the new version is sung by Seira Kagami. And while the original was more of a J-Pop ballad, the remake has an upbeat house sound.
The single is now available for purchase on iTunes, but it will also be on the upcoming "Tokyo wa Yoru no Shichiji" single.
01. [5:38] Kitto…Sayonara (Lady Bird 125 Re-Make)