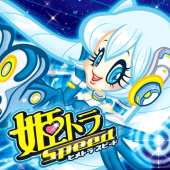 Hime Trance Speed
Release Date: 7/30/08
Price: 1886 yen
Amazon Japan put up the final cover. I don't think it's a Disney princess this time. Maybe Disney are on to them.
Once again, here are the previously announced tracks:
01. Ima Kono Toki Dake / Shin Yoshimune Soundtrack
02. Sousei no Aquarion (Speed Mix) / Dank-One feat. ari
03. Tamashii no Refrain [from Shin Seiki Evangelion] / Kayoco
04. God Knows… [from Suzumiya Haruhi no Yuutsu] /
05. Motteke! Sailor Fuku [from Lucky*Star] /
06. Sorairo Days [from Tengen Toppa Gurren Lagann] /
07. Mizu no Hoshi he Ai wo Komete (For Us to Decide) [from Kidou Senshi Zeta Gundam] / Haruna Ochi
08. Prologue / Tsukasa
09. Butterfly (Speed Mix) / Smile.dk
10. Max Don't Have Sex with Your Ex (Speed Mix) / E-Rotic
11. Sky High (Speed Mix) / DJ Miko
12. Girlfriend (Avril Lavigne Cover) / Hanna
13. Cartoon Heroes (Aqua Cover) / Barbie Young
14. Paya Paya (Speed Remix) / Dank-One feat. ari
15. D.O.U.B.T!!! ~Ai no Kakehiki wa DA*U*TO*~ (Speed Remix) / 4 Skips vs. Floorbreaker
16. I Do I Do I Do (Speed Remix) / Creamy
17. Sound of My Dream / DJ 92
There's also some news on more potential tracks:
18. New Song / Kei (Confirmed)
19. New Song / REDALiCE (Confirmed)
20. Lucky Girl (Remix) / Miki Matsuzawa (Unconfirmed)
So, not only are EMI licensing existing J-Core tracks, they've apparently commissioned brand-new songs as well. Actually, it's unknown if REDALiCE's track will be an original song or just a remix of one of the Hime Trance songs. If it's the latter, then I'd expect the Hime Trance songs to be remixed by the likes of kors k and DJ Shimamura.
Sadly, there's still no news on whether Saifam or LED will contribute new tracks.