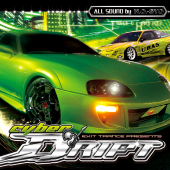 Exit Trance presents CyberDrift
Release Date: 8/20/08
Price: 1905 yen
A new trance album from N.O.-SYO. For those that don't know about N.O.-SYO, he is GOD. No, really, he refers to himself as a Cyber God, and I'm not inclined to disagree. He mostly produces rock trance, which is basically trance with loads of electric guitars. You can hear samples of his remixes on his MySpace. For some reason there's also a tie-up with some car thing, hence the title.
The tentative list is below. Any track with no artist mentioned is presumably by N.O.-SYO.
01. Forever / Alphazone
02. One Million Miles (N.O.-SYO 2008 Remix) / Mayumi Morinaga
03. Serenade for Strings (1st Movement) / N.O.-SYO
04. Rock Trance /
05. Rotary X /
06. Drift of the Wind / Mayumi Morinaga & N.O.-SYO
07. Gekkou -Moonlight- / Miya & N.O.-SYO
08. Hi no Tori (Vers 2) / N.O.-SYO
09. Evil Birds -Force Z- /
10. El-Dorado 2 / N.O.-SYO
11. Lucky Girl / Miki Matsuzawa
12. Revelation (N.O.-SYO Remix) / Alphazone
13. Love Is Blue /
14. Bayside Line /
15. The Loner (N.O.-SYO Remix) /
16. Caramelldansen (N.O.-SYO Remix) / Caramell
This looks to be pretty incredible, with lots of new remixes and songs. Rock on, Cyber God!