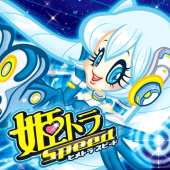 Hime Trance Speed
Release Date: 7/30/08
Price: 1886 yen
Just a few new tidbits of information. First, "Ima Kono Toki Dake" is slated to be the lead track. After all, it's not a true Hime Trance album if the first song isn't from a Pachislot soundtrack.
Next, Delaction along with Chika will be performing the cover of "Sorairo Days." Delaction will also be in charge of mixing the album, so we don't have to worry about the song being unnaturally sped up to 190 BPM.