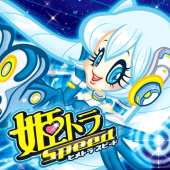 Hime Trance Speed
Release Date: 7/30/08
Price: 1886 yen
A near-final list has been announced. Remix names are still unknown, but I'm assuming that the Dancemania tracks will be the existing Speed remixes.
01. Ima Kono Toki Dake / Shin Yoshimune Soundtrack
02. Prologue (Spacey vs. garamonn Remix) / Tsukasa
03. God Knows… [from Suzumiya Haruhi no Yuutsu] / Kei
04. Sorairo Days [from Tengen Toppa Gurren Lagann] / Delaction feat. Chika
05. All Around the World (E=MC2 Mix) / Zippers
06. Butterfly (Upswing Mix) / Smile.dk
07. I Do I Do I Do (KCP Remix) / Creamy
08. Cartoon Heroes (Speedy Mix) / Barbie Young
09. Robin Robin Hood (Speed Version) / Jenny Rom
10. Motteke! Sailor Fuku [from Lucky*Star] / ???
11. Max Don't Have Sex with Your Ex (Grandale Mix) / E-Rotic
12. Girlfriend / Hanna
13. Paya Paya / Dank-One feat. ari
14. Heaven Is a Place on Earth / Wildside
15. Sky High (Speed Remix) / DJ Miko
16. D.O.U.B.T!!! ~Ai no Kakehiki wa DA*U*TO*~ / 4 Skips vs. Floorbreaker
17. Sousei no Aquarion / Dank-One feat. ari
18. Sound of My Dream / DJ 92
19. Senorita (Speedy Mix) / Jenny Rom
20. Zankoku na Tenshi no These / Nuts
Bonus Track
21. ??? / ???
By my count there are about 9-10 new tracks, which is phenomenal compared to the other trance releases this year. I'm mostly looking forward to hearing how Delaction's Speed debut, though I'm also mighty curious to hear the Hime Trance remixes. As for the repeats, at least most of them haven't been overused in the past. "Around the World" and "Robin Robin Hood" in particular are both pleasant surprises.
Again, if Hime Trance Speed sells well we may see a new Speed revolution. In fact, signs are already pointing to Speed being the next major dance genre. Quake's Speed Anime Trance 4 is selling very well at the moment, as is Caramell's Speed Album. Hime Trance Speed may be the release that pushes the genre into the mainstream again, just as the Dancemania Speed series once did.