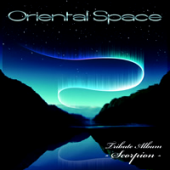 Oriental Space Tribute Album ~Scorpion~
Release Date: 6/18/08
Price: 2476 yen
I was extremely excited when FARM Records first announced an Oriental Space tribute album. However, I was also a little worried the thing would end up being a distasteful, blatant cash grab. Sure, we'd be getting new remixes by some of Japan's top trance DJ's, but the thought of FARM profiting off DJ Kousuke's death was a little disconcerting.
Thankfully, my fears were completely unfounded: A portion of the proceeds are going to Save the Children Japan. So, not only do we get incredible music, but we also get to help a great cause.
You can get the album in a few different ways. If you buy the CD version, you'll get a nonstop mix of Oriental Space's best tracks on disc 1, as well as edits of the new remixes on disc 2. Of course, you'll also be helping out a great charity. Buying the CD is also the only way to get "I Think My Neet." It is not available digitally.
If you're interested in full versions, then most of the songs are available for purchase online at Music Master. Disc 1 songs can be found by searching for Oriental Space's previous albums, though some songs, like "Friends," aren't available. The disc 2 remixes on Music Master are extended, in most cases about 2 minutes longer than the versions on the CD. The only problem is that I'm not entirely sure if those profits will be going to Save the Children.
The album is also on sale at the iTunes music store, but again, not all of the tracks are available. There are 19 tracks from disc 1 and 11 from disc 2 ("I Think My Neet" is again missing). The thing about iTunes is that it's much more expensive that Music Master (200 yen per song instead of 158 yen), and the songs are not on iTunes Plus. That means you'd be paying for 128 kbps tracks with DRM. I'm not sure if the profits from iTunes sales will go to charity, either.
Finally, there are two different vinyls available that have the full-length, extended versions of eight of the new remixes:
Vinyl 1
Vinyl 2
Anyway, on to the review! I'll only be reviewing the new remixes, but you should know that Disc 1 is an awesome nonstop mix by DJ U*Hey? The transitions are great, and the song selection, with the exception of "Alabasta," is top notch.
01. Scorpion (DJ Ten Remix) / Oriental Space
DJ Ten and DJ Kousuke utilize similar synths, so it's not surprising that DJ Ten's remix of "Scorpion" sounds the same as the original. It's not bad, but it's not very original either. Do yourself a favor and grab the remix of "Scorpion" from P-Trance vol. 2 (available on Music Master). It's a far more different, rockier take on the song.
02. Kimi o Nosete ~Laputa~ (DJ Uto Remix) / Oriental Space feat. Mayumi Morinaga
DJ Uto offers a soaring rendition of the anime theme. Mayumi's vocals don't add all that much to the song. Thankfully, they're kept to a minimum, allowing DJ Uto's synths to shine.
03. Magical Express (Umi no Mierumachi) (Heavens Wire vs. Drumroller Remix) / Oriental Space
As I've mentioned before, "Magical Express" is the song that got me hooked on epic trance in the first place. Additionally, Shohei Matsumoto has always been one of my top 5 DJS, so having him remix one of my favorite tracks is a dream come true. This remix is similar to Heavens Wire's version of "Laputa" in that it also features live (or possibly synthesized) instrumentation, this time in the form of flutes. It would've been nice to have a full orchestra like "Laputa" had, but the flutes still work remarkably well. Meanwhile, the synth work is also very reminiscent of Heavens Wire's "Laputa."
04. YaKuScha (DJ U*Hey? Remix) / Oriental Space
I'm not familiar with the original so I can't make any comparisons. I do think the intro for this edit lasts a tad too long. It takes two minutes to get up to the main melody, though once it gets there it's wildly enjoyable.
05. Alexandrite (DJ Tora + R-seq Remix) / Oriental Space
Shares some similarities with DJ Tora's "Love Sunshine 2007." I always enjoyed the original's melody but didn't quite like the synths. Thankfully, DJ Tora and R-seq have alleviated the only thing keeping me from loving this song.
06. All of Time (Delaction Remix) / Oriental Space
"This is a true love we're making." I swear I've heard these lyrics before in the song that plays during the London stage of Capcom vs. SNK 2. In fact, the vocalist even sounds the same. I'm not sure if DJ Kousuke sampled it or if the vocalist just happens to be based in Japan and was also hired by DJ Kousuke. Either way, it's an awesome song. Delaction didn't stray too far from the original melody, but the song admittedly sounds much better with Delaction's trademark synths.
07. Coconuts (ZIP FM Remix) / Oriental Space
My absolute favorite song on the album, and I wasn't even that fond of the original Coconuts! The best part? The second half of the song is a solo piano rendition. It's amazing how great and surprisingly poignant the melody sounds on piano.
08. I Think My Neet (Y&Co. Neet Euro Remix) / Love Scandals
The credits do say that DJ Kousuke wrote this, so I'm assuming that it went unused until now. It's pretty much what you'd expect from Y&Co., which is a good thing.
09. Greed Island (DJ Minagawa Remix) / Oriental Space
Another song that takes a while to get going. DJ Minagawa's version is really quite good, but his collaboration with U*Hey? on Mega Trance 09 is even better. It uses slightly better synths and wastes less time with the build-up.
10. Last Ecstasy (DJ Ozawa Remix) / Oriental Space
I actually much prefer the original version. I kinda miss the guy talking over the song.
11. Platinum (Overhead Champion Remix) / Oriental Space
Piano trance! There was a period of time when all of OHC's remixes sounded like "So So," but he's thankfully diversified a lot recently.
12. Just Do It (DJ Kaya Remix) / Oriental Space
Piano trance with a touch of jazz. Wonderfully euphoric yet touchingly peaceful. It's a fantastic way to end the album and a fitting tribute to the late, great Kousuke Okamoto. R.I.P.