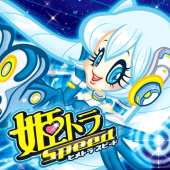 Hime Trance Speed
Release Date: 7/30/08
Price: 1886 yen
The Dancemania Speed series has been dormant for a while now (and no, I don't count Happy Speed), so it came as a surprise to see the series revived in the form of Hime Trance Speed. HTS is clash of the old with the new, with classic Dancemania Speed tracks appearing along with brand-new remixes of popular Hime Trance and anime songs.
It is a little jarring to hear all of the different styles come together on the same album, sort of like Speed Buyuuden. However, unlike Quiqman, DJ Hibiki of Delaction did a great job with the mixing. The album starts off at 160 BPM and stays there for the first few tracks before going up to 170-180 BPM, where it stays for the remainder of the album. No unnaturally fast BPMs here.
The transitions are mostly of the beat-mixing variety, and for the most part work well. The only awkward transition is the one into "Max," if only because he kept the "Smile" part in.
Sales have been brisk so far, so I do think a sequel is a given. With any luck, we may also finally see Speed G6. KCP and Runaway may no longer be around, but Delaction, Shohei Matsumoto, and the J-Core artists have proven that they're more than capable of producing fantastic Speed songs. If we do get a Hime Trance Speed 2, I just hope there are fewer repeats and more contributions from Saifam and LED. Use those new Rose songs, EMI!
Full review after the jump, but for now, enjoy the TV commercial:
http://jp.youtube.com/watch?v=KjcnaUmJyhY
01. Ima Kono Toki Dake / Shin Yoshimune Soundtrack
As I always say, you can't have a Hime Trance album without a Pachislot song. Ima Kono Toki Dake is essentially the speedier follow-up to Soko ni Aru Kamoshirenai… and is every bit as addictive.
02. Prologue (Spacey vs. garamonn Remix) / Tsukasa
Gah, a repeat from Hime Trance 3. It always felt out of place there, but it's right at home on Hime Trance Speed. The edit here is also a tad longer than before.
03. God Knows… / Kei
Hime Euro Speed! I was expecting a trance cover but this eurobeat cover of the anime theme adds a nice bit of variety to the album. It also happens to be much, much better than Quake's cover.
04. Sorairo Days / Delaction feat. Chika
I was wondering if Delaction would be able to pull off a Speed song, and the answers is a resounding "yes." Except for the instrumental hook, which is classic Delaction, it sounds quite different than most of their other other work.
05. All Around the World (E=MC2 Mix) / Zippers
Yeah, it's a repeat, but it's only shown up once before. Plus, it's more than twice as long as the edit on Speed 7.
06. Butterfly (Upswing Mix) / Smile.dk
I've never been a huge fan of this overexposed remix, so I can't say I'm too thrilled by its inclusion. After all, the remix is almost 10 years old at this point! They also missed the opportunity to mix the "ay iyai iyai" of Butterfly into the "I-I-I" of I Do I Do I Do. They sort of attempt it, but it doesn't completely pan out.
07. I Do I Do I Do (KCP Remix) / Creamy
This has always been one of my favorite KCP remixes, and I was always surprised that it never showed up again after Speed 10. I was hoping for a longer edit this time, but either one doesn't exist or EMI don't have copy of it anymore.
08. Cartoon Heroes (Speedy Mix) / Barbie Young
Not a bad pick. It's only been repeated once before, and it helps maintain the Hime Trance connection. The transition into Robin Robin Hood is also utterly seamless.
09. Robin Robin Hood (Speed Version) / Jenny Rom
Another old favorite that I never thought I'd see again. As with Cartoon Heroes, it's also received a much longer edit this time around.
10. Motteke! Sailor Fuku / Vacuum
When I first heard this I thought there was something wrong with my headphones, it's just that bizzare. Then I listened to the original and found out that's what it's supposed to sound like. Takes a while to get used to, that's for sure.
11. Max Don't Have Sex with Your Ex (Grandale Mix) / E-Rotic
Will that Smile->Max transition ever die? I think it's becoming clear that EMI no longer have access to the original recordings. Anyway, the edit is just a bit shorther than before.
12. Girlfriend (Speedy Mix) / Hanna
Girlfriend is the biggest surprise of the album. I abhored the DJ Ten remix, but this remix keeps the great guitars and is much more melodious during the verses. Strangely, this doesn't sound like Saifam at all, and the booklet only credits "Speedy" for the remix.
13. Paya Paya (Redalice Mix) / Dank-One feat. ari
Redalice took out the quacking! How dare he?! The lack of crazy sound effects aside, the remix is great, and the lyrics work perfectly for a Speed song.
14. Heaven Is a Place on Earth / Wildside
Well, at least it's not the Julia version yet again. Really, it's a great cover, but I don't think we needed to hear it again.
15. Sky High (Speed Remix) / DJ Miko
I think we've seen too much of this song in general.
16. D.O.U.B.T!!! ~Ai no Kakehiki wa DA*U*TO*~ (kors k vs. Omega Force Remix) / 4 Skips vs. Floorbreaker
Darn, they used the kors k remix after all. While it's grown on me a lot recently, I would've preferred a new remix.
17. Sousei no Aquarion (DJ 92 Mix) / Dank-One feat. ari
It's a great remix, but as a friend noted it sounds like the treble was pumped up way too much. The same goes for the other DJ 92 track, so maybe the problem lies on his end?
18. Sound of My Dream / DJ 92
Kind of generic hardcore. Not really for me, but if you enjoyed the more hardcore stuff from Dancemania Speed you'll probably enjoy this as well.
19. Senorita (Speedy Mix) / Jenny Rom
Senorita has been repeated a few times already, though this is the longest edit it's gotten so far. It's always been one of my favorite Jenny Rom songs so I don't mind it.
20. Zankoku na Tenshi no These (Quiqman Mix) / Nuts
At least this makes more sense here than it did on Happy Speed. Still, why not remix the awesome mint version? Oh, that's right, because EMI are cheap.
Bonus Track – 21. Realize / SP Show*Hey? feat. Ichiko
Shohei Matsumoto continues to show off his diversity. Honestly, if I wasn't told I never would have realized this was a Shohei production. It's got rock guitars in the background and very different synths than the ones Shohei usually uses. Ichiko has a really nice voice as well, so I'm hoping she does more trance in the future.
Please, if you have any interest in seeing the Speed series continue, order your copy today!