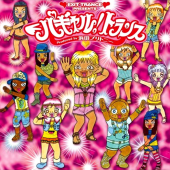 Exit Trance presents Pagal! Trance
Release Date: 10/15/08
Price: 2000 yen
This was supposed to have been released on September 17, but was delayed to October 15. The early track list only contained repeats. However, the final list thankfully has a handful of new tracks, including a trance cover of a very popular eurobeat song…
Night of Fire! You can hear it in the background of this video: http://www.youtube.com/watch?v=0Yaf1UEd1VY Now that I think about it, why didn't Avex ever commission a trance remix of the Niko version for SBT?
Anyway, there's also a brand new Delaction anime song cover, this time of "Zankoku na Tenshi no These." Normally I wouldn't be that enthused about hearing that song again, but Delaction rarely fail to disappoint.
Also of note are tracks 7 and 8, which I believe are psychedelic trance remixes of songs that appeared on Quake's Speed Anime Trance Best series.
Everything else can go away.
01. Night of Fire / Mayumi Morinaga feat. Britney Hamada
02. Zankoku na Tenshi no These / Delaction feat. Chika
03. Sousei no Aquarion / Delaction feat. Maki
04. Summer of Love (DJ Yoshinori Remix) / La Palma feat. Love Mark
05. Heaven Is a Place on Earth (Original Mix) / DJ Lhasa
06. Bad Boy (Club Mix) / Cascada
07. Tamashii no Refrain / Icon feat. Yurie
08. Red fraction / Icon feat. Florence
09. Danjo / Sensei
10. Iteza*Gogo Kuji Don't be late / Maki
11. Triangular / Maki
12. Seikan Hikou / Maki
13. Drift of the Wind / Mayumi Morinaga & N.O.-SYO
14. Fallin Angel (DJ Uto Remix) / 2Girlz
15. One Million Miles (Original Ver) / Mayumi Morinaga
16. I Touch Myself (Handz Up Club Mix) / Jan Wayne & Scarlet
17. Everytime We Touch (Club Mix) / Cascada
18. Holylance (Crystal Mix) / DJ Yoshinori
19. Grand Shake (Nasca Joker's World Mix) / DJ Joker Project Nasca
20. Caipirinha / Carinho
21. Caramelldansen (Speedycake Remix) Balsamico Suu Ver / Caramell
Pre-order at CDJapan