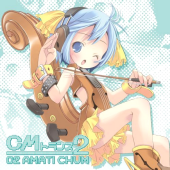 Exit Trance presents CM Trance 2
Release Date: 2/18/09
Price: 1905 yen
CM Trance 2 will include songs featured prominently in Japanese TV commercials. Aside form "Kibun Jojo" (yay, Ouendan) I can't say I'm familiar with the rest of the early track list, but that's probably because I don't follow J-pop.
01. Promise
02. Mikazuki
03. Kibun Jojo
04. This Is Love
05. Anatato
06. Zenryoku Shounen
07. Tree Climbers
08. Secret Secret
09. Namida no Furusato
Pre-order at CDJapan.