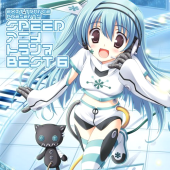 Exit Trance presents Speed Anime Trance Best 6
Release Date: 3/18/09
Price: 1905 yen
Hot on the heels of FARM, Quake will also be doing their own cover of "Hatena de Wasshoi." Hopefully they'll get Ryu* to do it for maximum Bemani synergy.
01. "Kidou Senshi Gundam 00 Second Season" ~ Hakanaku mo Towa no Kanashi
02. "Kannagi" ~ motto*Hade ni ne!
03. "Tora Dora!" ~ Pre-Parade
04. "Toara Majutsu no Index" ~ PSI-missing
05. "Kurogane no Line Barrel" ~ Ame ga Furu
06. "Ga-Rei Zero" ~ Paradise Lost
07. "Hidamari Sketch × 365" ~ Hatena de Wasshoi
Pre-order at CDJapan.