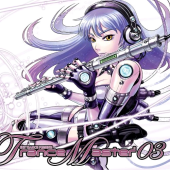 Exit Trance presents TranceMaster 03
Release Date: 4/15/09
Price: 1905 yen
Non-anime trance albums in Japan are almost non-existent now. Trance Paradise, Super Best Trance, Trance Rave Best, and Exit Trance Best are all victims of the end of the trance boom. As such, there are few outlets left for the "golden age" trance artists.
The TranceMaster series remains one of the only places where you can still find new material from the likes of Delaction, DJ Kaya, and Overhead Champion. While TranceMaster 02 was a tad disappointing — far too much psychedelic for my tastes — it's still good to see the series will continue with familiar names.
01. Undecided / DJ Uto
02. Undecided / DJ Kaya
03. Undecided / Delaction
04. Undecided / Overhead Champion
05. Undecided / Ryu*
06. Undecided / DJ Yoshinori
Pre-order at CDJapan.