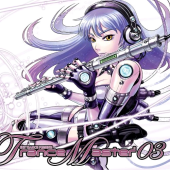 Exit Trance presents TranceMaster 03
Release Date: 4/15/09
Price: 1905 yen
[b]Update![/b] As mentioned in the comments, it appears that TranceMaster 03 features only original songs, and not trance covers of classical pieces. I'm slightly disappointed, but at the same time rather relieved that we'll finally get to hear original songs instead of covers.
TranceMaster is a series of trance albums featuring covers of classical masterpieces. You know, masterpieces such as "Funk You!" and "Crush on this groove." In all seriousness, I'm as confused as you are. Presumably these will still be covers of classical tracks, except with random new titles, similar to the Delaction tracks from the first two albums. "Forever" did appear previously on N.O.-SYO's Cyber Drift 2 album, though I can't remember if it was indeed a cover.
The original trance masters are mostly accounted for. DJ Kaya, Overhead Champion, DJ Uto, Delaction, and DJ Yoshinori return, but Remo-Con seems to be conspicuously absent. Meanwhile, a lot of Quake's artists will be making their TranceMaster debuts. Starving Trancer (with Mayumi Morinaga, no less), MK, B.U.S., and others will be taking a break from their usual anime duties to participate in TranceMaster for the first time.
01. [4:23] SW / Starving Trancer feat. Mayumi Morinaga
02. [4:01] ING / Ryu*
03. [4:01] Just a Man in Love / DJ Kaya
04. [3:48] Trance Mission (Overhead Champion Remix) / Ben Reynolds
05. [3:50] Skydive / DJ Sho-Ya
06. [3:21] Sparkling Future / MK
07. [4:54] Prophecy / Acid=Stone Valley
08. [3:58] Scarlet Haze (Original Instrumental Mix) / DJ Sa9
09. [4:47] Shock Wave / MK
10. [4:58] Flip Slide / Sinon
11. [4:57] Alcohol / Delaction
12. [4:51] MMK / DJ Uto
13. [3:31] Funk You!! / Dizzi Mystica
14. [4:07] efectribE+ / Icon
15. [4:59] Forever (N.O.-SYO Trance Master Rmx) / N.O.-SYO
16. [4:51] Lloyd / Hommarju
17. [4:18] Crush on this groove / B.U.S.
18. [4:08] Story / DJ Yoshinori
Pre-order at CDJapan.