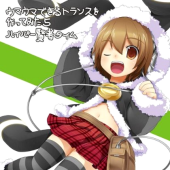 Exit Trance presents UmaUma Dekiru Trance wo Tsukutte Mita 5 – Hyper Kenja Time
Release Date: 6/17/09
Price: 1905 yen
Please don't google "Kenja Time." Trust me. Anyway, Quake didn't provide retailers with a tentative list for this release, so the track list remains a mystery. I do have a crazy theory that "Caramelldansen" will appear again. Just call it a hunch.
Pre-order at CDJapan.