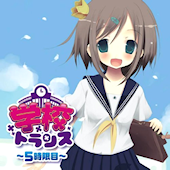 Exit Trance presents Gakkou Trance 5 Jigenme
Release Date: 8/5/09
Price: 1905 yen
The fifth release in the Gakkou Trance series. The last one had graduation as a theme, so one can only wonder what this one will be about.
01. Tegami ~Haikei Juugo no Kimi e~
02. Gakuen Tengoku
03. Ookina Furudokei
04. Chiisai Aki Mitsuketa
05. Over the Rainbow
06. Hallelujah!
07. Daichi no Uta
Pre-order at CDJapan.