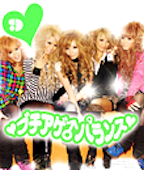 Buchiage Parance #9 (Haishin Gentei Mix)
Release Date: 7/8/09
Price: 1905 yen
Victor Japan aren't usually known for putting their albums up for download, so this comes as a bit of a surprise. The track list is mostly the same as the physical release, except with 5 tracks omitted (Caramelldansen and a few Zipang tracks, so no big loss). It's unknown if the downloads will be of full versions or if it'll be another non-stop mix. I'm crossing my fingers for full versions; the 2 bad techno mix of "Iteza" is 2 good.
Edit: It looks like the digital release has been canceled. 🙁
01. Zankoku na Tenshi no These (9LoveJ vs. DJ Fukui "Survive" Remix) / Shihori
02. Opening / Buchiage All Stars
03. Gake no Ue no Ponyo / Ryu* feat. Maki-oneesan to Prince-oniisan
04. Iteza*Gogo Kuji Don't be late (2 bad Techno Mix) / Suzumi
05. Koi wa Thrill, Shock, Suspense (DJ Fukui "Survive" Remix) / Miyabi
06. Tenshi / D.O.P.E
07. L'Esperanza / D.O.P.E
08. Oshare Banshou feat. Soy Sauce / L-mode feat. Stylish Heart
09. Love Dokkyun! / L-mode feat. Stylish Heart
10. Smile Ichiban Ii / Hirow
11. Up!! (DJ Fukui "Survive" Remix) / Nagisa
12. Voice to Voice (Akiba Koubou Remix) / Nagisa
13. Wasureru Koto ga Setsunakute (9LoveJ Remix) / tears
14. Come On (Hi-BPM Remix) / Nagisa
15. Friends (9LoveJ Remix) / Nagisa
16. Oogoe Diamond / Aina – Yumachi feat. Stylish Heart + FK4
17. Ending / Buchiage All Stars