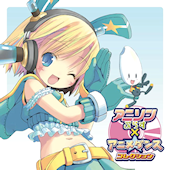 Anison Plus × Anime*Dance Collection
Release Date: 7/1/09
Price: 2381 yen
Almost every song on the album is new. o_O There are a couple of inexplicable Akiba Koubou repeats, but as far as I can tell everything else is new. The highlights are new tracks from Aoharu, including a cover of one of the biggest anime song hits this year, "Cayagake! Girls".
01. Don't say "lazy" ~from K-On!~ / Sunao Yoshikawa (PiyoRabbie)
02. Cayagake! Girls ~from K-On!~ / Aoharu
03. God Knows… ~from Suzumiya Haruhi no Yuutsu~ / Mi->Na
04. Over the Future ~from Zettai Karen Children~ / Mao Makabe
05. Keikenchi Joushouchuu* ~from Minamike~ / A×A (TV Tokyo Announcer Yuuka Aiuchi/Rena Akimoto)
06. Keikenchi Soku Joujou ~from Minamike Okaeri~ / Aoharu
07. Pre-Parade ~from Toradora!~ / Nakano Fujoshi Sisters
08. Zankoku na Tenshi no These ~from Shin Seiki Evangelion~ / Ayano Ooami
09. Orange ~from Toradora!~ / Mai Kotone
10. Ripple+Ripple! ~Original Song~ / Nomiko
11. Motteke! Sailor Fuku ~from Lucky Star~ / Tatsuji & Kiibou (C.V./Yoshiyuki Hirai – America Zarigani)
12. Saikyou o× Keikaku (Team. Nekokan [Neko] Mix) ~from Sumomomomomomo Chijou Saikyou no Yume~ / miko
13. Kometsubu Revolution ~Original Song~ / Kometsubu Bouya (C.V./Yuu Kobayashi)
14. Garo ~Savior in the Dark~ ~from Garo~ / NO.Bland
15. Cobra ~from Space Cobra~ / Tetsuya Yanagihara (America Zarigani)
16. Ginga Tetsudou 999 ~from Ginga Tetsudou 999~ / Akai Suisei feat. Ryo
17. Strike Witches ~Watashi ni Dekiru Koto~ ~from Strike Witches~ / Cosmetic Robot
18. euphoric field ~from ef – a tale of memories~ / Satryenu·Fujirawa
19. Plenty of grit ~from Slayers Revolution~ / Mao Makabe
20. Monochrome Kiss ~from Kuroshitsuji~ / Takashi Kondou
21. Shangri-La ~from Soukyuu no Fafner~ / Mayumi Komatsu
22. Sorairo Days ~from Tenge Toppa Gurren Lagann~ / lena
23. Lion ~from Macross Frontier~ / Suzumi & Rin
24. Love & Face (Lime remix) / Legend of Face
Extra Track
25. Tsubasa ~Memoeries of MapleStory~ (Dance Mix) ~Original Song~ / Mikuni Shimokawa
Order at CDJapan.