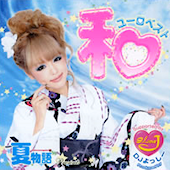 Natsu Monogatari presents Wa Euro Best
Release Date: 8/5/09
Price: 1886 yen
Somehow the final list looks even worse than the preliminary one. We're only getting six new tracks. In fact, it's really only 5 since the "Red Monster Hyper Mix" of "Banzai" is essentially the same as the Mocchi edit. Another one of the "new" tracks is an existing eurobeat remix of Nagisa's "Come On." There are three new anime covers that haven't appeared anywhere else, though, plus the new Rumi Itabashi song.
There are only 20 tracks in all, so we should get fairly lengthy edits of each. A shame Misa's "Natsu Monogatari" didn't make it onto the final list. It would've been nice to hear the full second verse of the Eurobeat version.
The cover is looking pretty good, though they probably should've had a cartoon "Hime" version of Rumi on the cover to trick people into thinking it was part of the Hime Trance series. Heck, why not just call it Hime Euro?
Interesting discussion going on at ParaParaStage. It seems that DJ Yosshi, the producer of the Natsu Monogatari series, may be forced to retire if Wa Euro Best doesn't sell well. Seeing as how Natsu Monogatari is basically the only thing keeping the Dancemania brand alive, this is very dire news. If DJ Yosshi goes, then we can say goodbye to Natsu Monogatari 2010 and effectively to Dancemania as well.
According to the thread, Wa Euro Best either has to A) Sell 10,000 copies or B) Place in the Oricon Top 100. The first thing is pretty unlikely, especially if it's true that he wants it to sell that much in a week. As for placing in the Top 100, let's take a look at the history of Summer Story's highest chart placements:
Natsu Monogatari 2007 – 82
Natsu Monogatari 2008 – 162
Natsu Monogatari 2009 – 215
Yeah, not looking all that great. Super Eurobeat hasn't even broken the top 100 since SEB 190, and the last eurobeat FARM compilation to do well was VIP Hybrid (139th place). The latest Love Para didn't even break the top 300. 🙁
What sales are necessary to get into the Top 100? Well, it varies. Last week, the 100th album sold a little under 1,500 copies. However, a few weeks ago #100 only sold 1,000 copies. So, somewhere between 1,000 and 1,500 copies is the bare minimum for Wa Euro Best to reach the Top 100.
Remember, CDJapan has a coupon for 500 yen off a 3,000 yen order. If you have any interest in seeing Dancemania continue, please consider buying Wa Euro Best.
01. Soko ni Aru Kamoshirenai… / Yoshimune Soundtrack
02. Shangri-La / Shihori
03. Ai wo Torimodose! / DJ Kazma
04. Sousei no Aquarion / Haruka
05. Bacchikoi!!! (ParaPara Mix) / Dev Parade
06. Ginga Tetsudou 999 / Scamp
07. Wasureru Koto ga Setsunakute / tears
08. True Love Forever / Rumi Itabashi
09. Come On! (9LoveJ Remix) / Nagisa
10. Omoide wa Yume no Naka / tears
11. Banzai (Red Monster Hyper Mix) / Misa
12. Koi Wazurai ~Natsu Toka Fuyu Toka~ / Sunplaza Nakano Kun feat. DJ Yossy
13. Bye Bye Para Girl / Sunplaza Nakano Kun feat. DJ Yossy
14. Hoshizora no Okurimono / Rumi Itabashi feat. Kazue Nakai
15. Distance / Osu! Bancho Soundtrack
16. Tamashii no Refrain / Miyabi
17. United Force / Nagisa
18. Cat's Eye / Miyabi
19. Kinnikuman Go Fight! / Scamp feat. Nagisa
20. Zankoku na Tenshi no These / Shihori