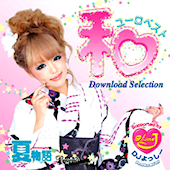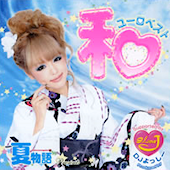 Natsu Monogatari presents Wa Euro Best
Release Date: 8/5/09
Price: 1886 yen
The official Dancemania website has been updated with info on Wa Euro Best. The track list they have up has "Samishii Nettaigyo," which appeared on Natsu Monogatari 2008, in place of "Ginga Tetsudou 999." However, I think that's a typo, as HMV lists "Ginga Tetsudou 999." Other than that, not much new info, except for the announcement that the release will come with a lyrics booklet.
Actually, there is one bit of surprising news: DIGITAL DOWNLOADS! A Wa Euro Best "Download Selection" will be available shortly after the CD release. Judging by the title, not all of the tracks will be available, but this will still be the first time that EMI have digitally offered full versions of Dancemania tracks. No word yet on which tracks will be available for download. It's just a shame EMI didn't start doing this with Natsu Monogatari 2009 or Hime Trance Anime Mix.
01. Soko ni Aru Kamoshirenai… / Yoshimune Soundtrack
02. Shangri-La / Shihori
03. Ai wo Torimodose! / DJ Kazma
04. Sousei no Aquarion / Haruka
05. Bacchikoi!!! (ParaPara Mix) / Dev Parade
06. Ginga Tetsudou 999 / Scamp
07. Wasureru Koto ga Setsunakute / tears
08. True Love Forever / Rumi Itabashi
09. Come On! (9LoveJ Remix) / Nagisa
10. Omoide wa Yume no Naka / tears
11. Banzai (Red Monster Hyper Mix) / Misa
12. Koi Wazurai ~Natsu Toka Fuyu Toka~ / Sunplaza Nakano Kun feat. DJ Yossy
13. Bye Bye Para Girl / Sunplaza Nakano Kun feat. DJ Yossy
14. Hoshizora no Okurimono / Rumi Itabashi feat. Kazue Nakai
15. Distance / Osu! Bancho Soundtrack
16. Tamashii no Refrain / Miyabi
17. United Force / Nagisa
18. Cat's Eye / Miyabi
19. Kinnikuman Go Fight! / Scamp feat. Nagisa
20. Zankoku na Tenshi no These / Shihori