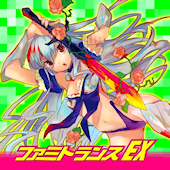 Exit Trance presents Famitrance EX
Release Date: 11/4/09
Price: 1905 yen
Despite the title being an allusion to Famicom, Famitrance isn't limited solely to Famicom themes. Final Fantasy is well represented, with at least 5 tracks ranging from VII to X-2. All the big vocal themes from "Eyes on Me" to "Sutaki da ne" are covered, along with a few instrumental tracks.
Mother, Sakura Taisen, and Nobunaga's Ambition get a healthy two tracks each, while it appears that Dragon Quest is only getting one. It would've been interesting if they had licensed a Bemani song by Ryu*, but I'm more than happy with him taking on the Tetris theme.
While the track list does look very strong and varied, I can't help but be disappointed by the lack of Mario or Zelda themes. And what's up with the random Goonies track? Oh well, still very much looking forward to this.
01. [4:17] Eight Melodies / MK feat. cherry
02. [3:53] Love Song Sagashite / MK feat. Latte
03. [4:58] Melodies of Life / B.U.S. feat. lyon
04. [4:27] Suteki da ne / MK feat. Yah
05. [3:47] Chrono Cross ~Toki no Kizuato~ / Starving Trancer
06. [3:08] Geki! Teikoku Kagekidan / Dizzi Mystica feat. mi-mi
07. [4:25] Hanasaku Otome / Acid=Stone Valley feat. mi-mi
08. [2:58] Pollyanna (I Believe in You) / Dizzi Mystica feat. cherry
09. [4:46] Eyes on Me / Hommarju feat. Maki
10. [4:27] Hikari / Starving Trancer feat. R. Cena
11. [2:39] Zanarkand nite / Icon
12. [3:02] Gensei Mugen / N.O.-SYO
13. [3:04] Ai no Uta / Maki
14. [2:52] Full Metal Jacket (I Wanna Be Your Drill Instructor) / Hommarju
15. [2:46] Korobushka / Ryu*
16. [2:53] The Goonies 'R' Good Enough / Starving Trancer
17. [3:57] Ending no Theme / Acid=Stone Valley
18. [2:00] Shao Pai Long / Starving Trancer feat. Yah
19. [3:02] Overture ~Nobunaga no Yabou~ / B.U.S.
20. [3:42] Kuon ~Hikari to Nami Kioku~ / MK
Pre-order at CDJapan.