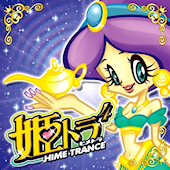 Hime Trance 4
Release Date: 1/27/10
Price: 1886 yen
Track lengths have been announced and it looks like most of the tracks got healthy edits. The Lil'B song gets the distinction of being the longest track on the album, though Tsukasa's "Shin Ai" isn't far behind. Some songs got the short end of the stick, however. While I'm happy that I'll only have to endure ~2 minutes of "Santa Maria," the new remix of "Coconut" is the shortest track on the CD, coming in at a paltry 1:22. Hopefully EMI will release a Download Selection so we can hear full versions of these songs.
It's still unknown who'll be doing the "Hime" remixes of "Boy" and "Coconut." However, Shohei Matsutmoto has been confirmed as the producer of the Gavin and ari tracks. Also, making his Hime Trance debut is the one and only king of Rock-Trance, N.O.-SYO!!! He's collaborated with Kei for the original song, "Somebody's Voice." I know Kei has been itching to sing another original song for a while now, so it's great to see her get her wish.
01. [2:41] Yume no Tochuu / Densetsu no Miko Soundtrack
02. [3:13] Shuuketsu no Sono e (Delaction Remix) / Tsukasa
03. [3:41] Barbie Girl (Overhead Champion Remix) / Savannah
04. [4:31] Sweet Song (DJ Kaya Remix) / Lady Bird feat. Wei Son
05. [4:16] Somebody's Voice / Kei
06. [4:45] Cinderella / Delaction feat. Chika
07. [3:26] I Should Be So Lucky (Dank-One "Decade" Remix) / A.Kay-B.J.
08. [3:10] Boy (Hime Remix) / Misa
09. [1:47] Miku Miku ni Shite Ageru [Shiteyanyo] (Hime Mix) / Miu Hatsune
10. [1:22] Coconut (Hime Remix) / Smile.dk
11. [2:30] Get Wild / Kei
12. [3:03] Koishi Chatte de A~ru! / Gavin Ouji to Hime Tra 4 no Theme
13. [3:55] Sukidayo Zutto Sukideshita (Hime Version) / mint
14. [2:15] Santa Maria (DJ Ten Remix) / Tatjana
15. [3:06] Hard Rock & Pinky Black (Like a Fire) / 4 Skips
16. [5:38] Shin Ai (Delaction Remix) / Tsukasa
17. [4:20] Without You / Delaction feat. Chika
18. [3:36] Stay (Airscape Mix) / Wendy Phillips
19. [4:41] Eternity / Overhead Champion
20. [3:40] Try Again ~My Graduation~ / ari-Aya
21. [5:40] Kimi ni Utatta Love Song (Heavens Wire Rmx) / Lil'B
Bonus Track
22. [3:43] Love Big "Elicion" / Sky Love II Soundtrack
Pre-order at CDJapan.