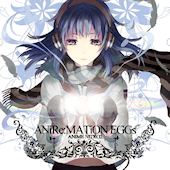 Anime Nitro 2 ~ANiRe:MATiON EGGs~
Release Date: 1/27/10
Price: 1905yen
Originally titled Anime Nitro*Itaoto Mix! vol. 2, the CD has since undergone a name change. Many of the artists from the first release make return appearances, including Redalice and kors k. The official website has samples up as well as a preview video.
01. Kimi Shini Tamou Koto Nakare / Redalice feat. Sunao Yoshikawa (Akihabara Dear Stage)
02. First kiss / Usao feat. Se-ko Koizumi
03. Transparent / Betwixt & Between feat. Usagi no Nami Hey
04. truth / kors k feat. Anna a.k.a. die!! die!! color!!!
05. Tamashii no Refrain / NYO (Silver Forest) feat. Sayuri (Silver Forest)
06. Hishoku no Sora / Taishi feat. Yuka
07. Forever we can make it! / Tanaita feat. Serumin
08. Shuuketsu no Sono e / Muzik Servant feat. Yuka
09. Yahho!! / Miraiha feat. Sara Minami
10. Niji / Jing*da*Law feat. Koko
11. Cloudier Sky / EastNewSound feat. Ritsuka
12. Prism / Querux feat. Maki Eguchi
13. Mononoke Dance / Nhato faet. sasa1 (Punk Dirty Channel)
14. Uninstall / dj Aura Qualic feat. Mai Hanano
15. futuristic imagination / Punk Dirty Channel feat. sasa1 (Punk Dirty Channel)
16. We Were Lovers / BanananaMilk
Pre-order at CDJapan.