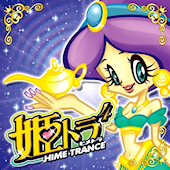 Hime Trance 4
Release Date: 1/27/10
Price: 1886 yen
It's been a long 2+ years since Hime Trance 3. The wait was more than worth it, however. In addition to new songs from Hime Trance mainstays like Tsukasa, Kei, and Misa (who makes her return after being left off Anime*Mix), we also get brand new Saifam remixes and licensed songs from popular J-Pop artists. It all makes for an extremely satisfying CD that rivals Anime*Mix and perhaps even the first Hime Trance in terms of pure enjoyment.
The last entry in the main series, Hime Trance 3, was full of repeats and songs that weren't trance. EMI have seemingly learned their lesson, as Hime Trance 4 contains only one true repeat ("Stay," which was featured on Trance Paradise Best) and one non-trance song ("Miku Miku…"). Another problem with Hime Trance 3 was that it only had one Delaction song, and it was a repeat at that. Hime Trance 4 has four new Delaction songs, which automatically makes it the best album ever.
The bad news is that it's not selling all that well at the moment. The last HT release, Anime*Mix!, debuted at number 24 on Oricon's weekly sales chart, but it's looking like HT4 won't even break the top 30. Heck, right now Wa Euro Best 2 is outselling Hime Trance 4 on Amazon Japan. EMI actually put some effort into this release, so if you have any interest in seeing the series continue then do consider picking up a copy. It's available at CDJapan, HMV, Amazon Japan, Yes Asia, and JPopHelp. No word yet on whether a Download Selection will be available, but I'm certainly hoping for it.
Full review after the jump.
01. Yume no Tochuu / Densetsu no Miko Soundtrack
It's not a Hime Trance album if it doesn't start off with a Pachislot song. Unlike previous Pachislot licenses, this one doesn't come from Daito Giken, the company behind the Yoshimune and Osu! Bancho series. Despite that, it still sounds like a mix between "Soko ni…" and "Distance" thanks to its mixture of trance synths and rock guitars. A nice way to start the album.
02. Shuuketsu no Sono e (Delaction Remix) / Tsukasa
Delaction lend their trademark energy to the latest Evangelion song. While it's unmistakably Delaction, it sounds like they've added a few new synths and effects to their repertoire that give the song a more distinct sound than some of their other recent works.
03. Barbie Girl (Overhead Champion Remix) / Savannah
This is mostly vintage OHC, with the same effects he's been using since "So So" and "Chocolate," yet I can't help but think there's something a little off. The verses sound a little too empty, and I was expecting something a little more epic for the most popular bubblegum dance song of all time. I have a feeling it'll grow on me, but for now I'm slightly disappointed.
04. Sweet Song (DJ Kaya Remix) / Lady Bird feat. Wei Son
After the "Wake Up" travesty from Hime Trance 3 I was fearful that they'd use the Lady Bird mix of "Sweet Song" instead of the DJ Kaya's fantastic trance mix. Thankfully, they used their heads this time and went with the right choice.
05. Somebody's Voice / Kei
The collaboration between Kei and N.O.-SYO isn't what I expected. N.O.-SYO is synonymous with rock trance, so I was surprised to not hear any guitar riffs in this song. The song is pretty incredible regardless, and it's really, really nice to hear Kei sing an original song again.
06. Cinderella / Delaction feat. Chika
A cute, original song from Delaction with a seriously catchy melody. I was secretly hoping for a cover of Papaya's similarly titled song, though.
07. I Should Be So Lucky (Dank-One "Decade" Remix) / A.Kay-B.J.
I was a little worried when I heard Shohei Matsumoto would be remixing this, given that he doesn't utilize the verses in his remixes (see: "Dub-I-Dub" and "Cartoon Heroes"). That isn't the case here, and we get a full two verses. The synths sound most similar to the ones he used in his "Summer Story" remix.
08. Boy (Hime Remix) / Misa
Misa!!! She was the only regular Hime Trance artist not present on Anime*Mix!, so it's great to see her back where she belongs. The original version of "Boy" could've qualified as trance, so I'm pleasantly surprised that they actually gave it a new remix. DJ Seven is the one responsible for this bouncy remix, though I easily could've confused it for an OHC remix.
09. Miku Miku ni Shite Ageru [Shiteyanyo] (Hime Mix) / Miu Hatsune
Miu Hatsune is a "race queen" who just happens to have a name similar to a certain Vocaloid character. In late 2008 she released a mini-album with Quake Records that included a cover of "Miku Miku ni Shite Ageru." DJ Seven is once again credited with the remix, but it sounds almost exactly the same as the original mix, which is more electro house than trance. Still, it fits better than Tiara's "Magic."
10. Coconut (Hime Remix) / Smile.dk
The synths do a great job of replicating the calypso drums of the original, and the song works better with the faster tempo. It's just a shame that the edit is so criminally short. I really wanted to hear the "come buy a co-co-conut" part. As it stands, there's only one verse and one instance of the chorus.
11. Get Wild / Kei
Kei at her absolute best. The production is lively and energetic, and Kei's vocals aren't pitched up as high as in her other songs. This song was originally produced in 2007 and made its debut on Victor's Buchiage Trance #6.
12. Koishi Chatta de A~ru! / Gavin Ouji to Hime Tra 4 no Theme
Meow meow meow! Meow meow meow! Let's go, Gavin! Ari/Aya sings the unbelievably cute and catchy chorus while Gavin names the Hime Trance queens. Although the back cover lists the Hime Trance All-Stars as Tsukasa, Kei, Chika, Misa, mint, and ari/Aya, Gavin doesn't mention Chika. Instead, it sounds like he makes reference to AI, the artist who's been providing art for the series since the beginning.
13. Sukidayo Zutto Sukideshita (Hime Version) / mint
I'm a little bummed that mint only got one song, but she certainly makes the most of it. The trance synth is merely acceptable; it's mint's vocals that are the real attraction. Her deep, throaty voice makes for a nice diversion from the usual high-pitched vocals.
14. Santa Maria (DJ Ten Remix) / Tatjana
DJ Ten's synths aren't as annoying as I remember on this song, which made it's debut on Avex's Erocawa Trance back in 2006. I'm still not a huge fan of Tatjana's voice, however. I would've much preferred a remix of Samantha Fox's version.
15. Hard Rock & Pinky Black (Like a Fire) / 4 Skips
This is what I expected the Kei and N.O.-SYO song to sound like. Ari provides the vocals for this song, though the lyrics don't stray much from the words used in the title. I'm still trying to figure out what "pinky black" means.
16. Shin Ai (Delaction Remix) / Tsukasa
A little more subdued than I'd expect from Delaction, but it does help to show off their diversity. It also brings back that high-pitched synth that they've been using recently.
17. Without You / Delaction feat. Chika
Delaction mix it up again with a rather melancholy, yet still energetic, song. I really wish they'd stop pitching up Chika's voice, though.
18. Stay (Airscape Mix) / Wendy Phillips
Well, at least it's actually trance, and it does hold up remarkably well after almost a decade.
19. Eternity / Overhead Champion
The lovely title track from OHC's 2006 album. Not a bad license, but they could've chosen something a little more recent, like OHC's collaboration with Da Buzz.
20. Try Again ~My Graduation~ / ari-Aya
Shoehei Matsumoto never ceases to amaze me with his diversity. The synthwork is absolutely amazing and gives meaning to the term epic trance.
21. Kimi ni Utatta Love Song (Heavens Wire Rmx) / Lil'B
The original wasn't the most exciting song, and the remix doesn't try to change that. I'm not yet sure if that's a good or bad thing. Interestingly, this appears to be the first time this remix has ever been released, despite the fact that it's a license from Sony.
22. Love Big "Elicion" / Sky Love II Soundtrack
Another Pachislot song, this time from SNK-Playmore's popular Sky Love II. Again, sounds like a cross between "Soko ni…" and "Distance."
—
Team Cha-Meshi were once again responsible for the non-stop mix. The mixing is quite good, with heavy use of beatmixing. The songs never stray too far from 145 BPM.
I only wish that DJ Tora and Nasca Joker had made appearances, though it seems that the latter is retired from trance at the moment. Otherwise, I'm more than happy with the track selection, "Stay" and "Santa Maria" excluded. Feel free to post your own thoughts in the comments section. Or, if you'd like to type up a full review of your own I'd be happy to post it.