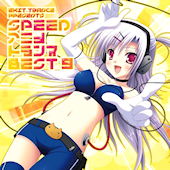 Exit Trance presents Speed Anime Trance Best 9
Release Date: 4/7/10
Price: 1905 yen
The 9th release in the SATB series.
Note: The last four tracks are assumed. CDJapan's description just stated the anime names and whether the track was the opening theme or the ending theme. In the case of "White Album," I assumed they'll be doing "Mugen" since "Shin Ai" has already been done.
01. "To Aru Kagaku no Railgun" ~ only myrailgun
02. "Bake Monogatari" ~ Renai Circulation
03. "Seitokai no Ichizon" ~ Treasure
04. "White Album" ~ Mugen
05. "Kämpfer" ~ One Way Ryou Omoi
06. "Seiken no Blacksmith" ~ Justice of Light
07. "Kobato." ~ Magic Number
Pre-order at CDJapan.