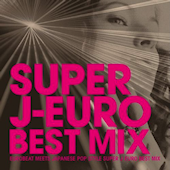 Super J-Euro Best Mix
Release Date: 7/7/10
Price: 2381 yen
Looks like Avex are trying to capitalize on the current Wa Euro craze. The album will include songs produced by none other than Akiba Koubou. So far 15 songs are planned.
01. Title Undecided / Kiyono Mezawa
02. Ai, Oboete Imasu ka / Chika Anzai
03. P.S. I Love You / Nagisa
04. Romeo to Cinderella / Usa
05. Lucky Lucky
06. My Revolution
07. Glamorous Sky
08. Rei
09. Chime
10. Strawberrysky
Pre-order at CDJapan.