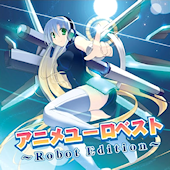 Anime Euro Best ~Robot Edition~
Release Date: 9/15/10
Price: 2284 yen
The second release of the AEB series has robot-themed anime themes as a, umm, theme. All of the songs announced so far have already been done (in some cases, to death) by Akiba Koubou. There should be 18 tracks in all.
01. "Macross F" ~ Triangler
02. "Mazinger Z" ~ Mazinger Z
03. "Sousei no Aquarion" ~ Sousei no Aquarion
04. "Chou Jikuu Yousai Macross" ~ Ai, Oboete Imasu ka
05. "Shin Seiki Evangelion" ~ Zankoku na Tenshi no These
06. "Kidou Senshi Gundam Seed" ~ Believe
Pre-order at CDJapan.