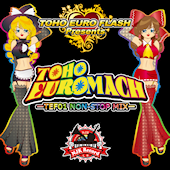 Toho Euro Flash presents Toho Euromach ~TEF01 Non-Stop Mix
Release Date: 9/19/10
Price: 300 yen
There seems to be a bit of confusion surrounding this release. It's just a non-stop mix of the songs that were featured on Toho Euro Flash. Hence the subtitle, TEF01 Non-Stop Mix. It's simply a CD-R that was sold for 300 yen during the Reitaisei SP event back in September. The non-stop mix is 23 minutes long, and there are plenty of copies to be found on Yahoo Auctions. Unfortunately, no proper sequel to TEF01 has been announced just yet, though Comiket 79 is just around the corner.
01. Dirty Sexy Girl / maria?polo
02. Spring of Dreams / 3L
03. Twinkle Twinkle / Misato
04. Night 'n' Night / 3L
05. Think of You / Nachi Sakaue
06. My destiny / Shihori (A-One)
07. Last Moments / 3L, maria?polo
08. Sympathy take me to darkness / 3L
09. Miracle?Hinacle -NJK Special!! DJ Command Mix- / 3L