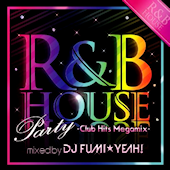 Jazz in the Mix
Release Date: 1/26/11
Price: 2000 yen
Avex are jumping on the R&B house bandwagon with this release mixed by the omnipresent DJ Fumi*Yeah! Expect house covers and remixes of popular R&B songs.
01. Sex on the Beach / Spankers
02. Now You See It / Honorebel feat. Pitbull & Jump Smokers
03. I Know You Want Me (Calle Ocho) (More English Extended) / Pitbull
04. I'm in the House / Steve Aoki
Pre-order at CDJapan.