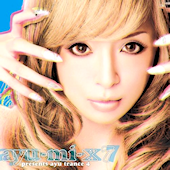 ayu-mi-x 7 presents ayu trance 4
Release Date: 4/20/11
Price: 2500 yen
Trance remixes of Ayumi Hamasaki tracks. Lots of familiar European producers, but Remo-con, DJ Joker and Heavens Wire also make appearances. Where's Overhead Champion, though?
As with the House version, the Trance edition also has two different digital releases. The first includes extended versions, which are longer than the CD edits. The second features instrumental versions.
01. [3:49] Far away (Alex M.O.R.P.H. Extended rmx)
02. [4:30] Moon (Clokx remix)
03. [4:00] Seasons (John o'Callaghan remix)
04. [4:51] Days (Aly & Fila remix)
05. [3:59] poker face (Ronald Van Gelderen Extended remix)
06. [3:51] monochrome (Remo-con classic trance remix)
07. [3:42] Rule (Public Domain remix)
08. [3:57] vogue (Groove Coverage remix)
09. [4:46] Endless sorrow (Dance Nation remix)
10. [4:03] You (Ramon Zenker remix)
11. [5:25] Greatful days (DJ Joker vs. Heavens Wire remix)
12. [5:25] Carols (Push remix)
Pre-order at CDJapan.