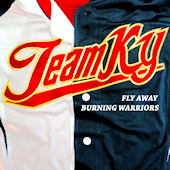 Fly Away/Burning Warriors (Single)
Artist: Team KY
Release Date: 7/20/11
Price: 952 yen
First single from the duo comprising Utatte Mita singers Kouhey and Yamadan. "Fly Away" is a new production, while "Burning Warriors" is from Super J-Euro Best Mix. Both are produced by DJ Comamnd. Strange that they chose "Burning Warriors," since I thought that was their weakest track. "Skill" or "Garo" are much better showcases of their trademark powerful voices.
Unfortunately the single is not available at major retailers. You can order it from Animate or Toranoana, but neither will directly ship overseas. Instead, you'll have to use a middleman service like CDJapan to order the item for you.
01. Fly Away
02. Burning Warriors
03. Fly Away -instrumental-
04. Burning Warriors -instrumental-