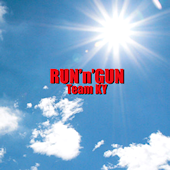 Run 'n' Gun/Skill (Single)
Artist: Team KY
Release Date: 9/7/11
Price: 952 yen
Second single from the duo comprising Utatte Mita singers Kouhey and Yamadan. "Run 'n' Gun" is a new production, while "Skill" is from Super J-Euro Best Mix. Both are produced by DJ Command.
You can order the single from Animate, but they won't directly ship overseas. Instead, you'll have to use a middleman service like CDJapan to order the item for you. The single will apparently be made available on Amazon Japan, but it doesn't seem to be up yet.
01. Run 'n' Gun
02. Skill
03. Run 'n' Gun -instrumental-
04. Skill -instrumental-