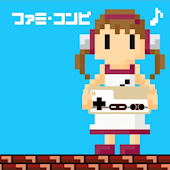 Fami Compi
Release Date: 10/26/11
Price: 1714 yen
House, techno, and electro covers of Famicom (NES) themes. Originally scheduled for release in June, it finally sees the light of day this October. Artimage has uploaded samples on SoundCloud. Tracks are produced by TeddyLoid, Hello Stupid People, and Hikari Koshi. Samples sound pretty good, and it's nice to see that they avoided the usual themes.
01. Opening ~Fami Compi no Theme~
02. Gradius
03. Getsu Fuuma Den
04. Yie Ar Kung-Fu
05. Senjou no Okami
06. Makaijima Nanatsu no Shima Daibouken
07. Ganbare Goemon! Karakuri Douchuu
08. Kekkyoku Nankyoku Daibouken
09. Sonson
10. Electr8bit City ~Connect! Fami Compi~
11. Idol Hakkenden
12. Salamander
13. TwinBee
14. Contra
15. Section Z
16. Majou Densetsu II: Daimashikyou Galious
17. Dracula II: Noroi no Fuuin
18. Makaimura
19. Konami Wai Wai World
20. Ending ~Fami Compi March~
Pre-order at CDJapan.