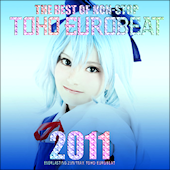 The Best of Non-Stop Toho Eurobeat 2011
Release Date: 12/30/11
Price: 1400 yen
Doujin release featuring eurobeat covers of popular touhou songs. Avex's recent penchant for non-stop mixes seems to have infected A-One Records as well, as this release will be a non-stop mix featuring 16 songs from TEB Vol. 1-4 as well as 4 new tracks from Elementas feat. Shihori. The album will be available at Comiket 81. Those in attendance will also receive a limited 2012 Toho Eurobeat calendar.
Mixed by AKBK's DJ Mocchi. Samples can be found on A-One's official website.
01. Play My Game (Lady's) / Elementas feat. Shihori
02. Zenmai Koi Tokei (T.E.B Summer Mix) / Honey Pocket feat. Aki (Honey Pocket)
03. Anything for You / samfree feat. (V)·V·(V)
04. Endless, Sleepless Night / samfree feat. (V)·V·(V)
05. Wanna Be My Dream / Elementas feat. Shihori
06. Right or Wrong / Elementas × DJ Command (Akiba Koubou) feat. Axel.K × Shihori
07. Speedy Night (Queen Side) / Elementas feat. Shihori
08. Leave Me in the Dark / Sugano (Kizuna Records) feat. T. Stebbins
09. China Gal / Sugano (Sugano Music) feat. T. Stebbins
10. Bamboo Dance / DJ Command (Akiba Koubou) feat. Shihori
11. Magic Girl!! / DJ Command (Akiba Koubou) feat. Shihori
12. Men Becomes a Knight / Sugano (Kizuna Records) feat. Aniroku!
13. Brave Wings / Sugano (Kizuna Records) feat. Aniroku!
14. Savior of the Sky / Sugano (Kizuna Records) feat. T. Stebbins
15. Lunatic Paradise / DJ Command (Akiba Koubou) feat. Axel.K
16. Everyday Everynight / Elementas feat. Shihori
17. Wish Upon the Sky / Sugano (Kizuna Records) feat. Nagisa
18. Dreamin' Girl / Elementas feat. Ranko (Butaotome)
19. Don't Break Me Down / DJ Command (Akiba Koubou) feat. Axel.K
20. Get It Done / DJ Command (Akiba Koubou) feat. Axel.K