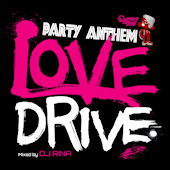 Party Anthem Love Drive
Release Date: 2/15/12
Price: 1500 yen
A new R&B House compilation from Preget Music. Mixed by DJ Rina, the female DJ who also recently mixed Diamond ~Celebrity Style Best Mix~.
01. Intro / DJ Rina
02. What The Hell (Avril Lavigne)
03. Judas (Lady Gaga)
04. Hold It Against Me (Britney Spears)
05. Rock That Body (The Black Eyed Peas)
06. Backseat (New Boyz)
07. Poker Face (Lady Gaga)
08. We No Speak Americano (Yolanda Be Cool)
09. Where Them Girls At (David Guetta feat. Nicki Minaj, Flo Rida)
10. Club Can't Handle Me (Flo Rida)
11. Born This Way (Lady Gaga)
12. Yeah 3X (Chris Brown)
13. Dynamite (Taio Cruz)
14. Firework (Katy Perry)
15. My First Kiss (3OH!3 feat. Kesha)
16. Beautiful Monster (Ne-Yo)
17. DJ Got Us Falling in Love (Usher)
18. Sweet Dreams (Beyonce)
19. Teenage Dream (Katy Perry)
20. California Girls (Katy Perry)
21. Suger (Flo Rida feat. Wynter Gordon)
22. Forget You (Cee Lo Green)
23. If We Ever Meet Again (Timbaland feat. Katy perry)
24. I Gotta Feeling (The Black Eyed Peas)
25. Gone (Nelly feat. Kelly Rowland)
26. Impossible (Shontelle)
27. Closer (Ne-Yo)
28. Airplanes (B.o.B feat.Haley Williams from Paramore)
29. Nothin On You (B.o.B)
30. Whatcha Say (Jason Derulo)
31. Love the Way You Lie (Eminem feat. Rihanna)
Pre-order at CDJapan.