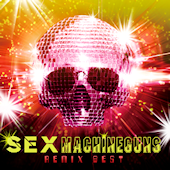 Remix Best
Artist: Sex Machineguns
Release Date: 4/18/12
Price: 2667 yen
A new Sex Machineguns remix album produced by Akiba Koubou. Sex Machineguns are a speed metal band who have been active since 1983. This special remix CD will feature remixes of 12 of their biggest hits, plus a special 20-minute megamix by DJ Mocchi. I'm not entirely certain who the rearrangers are, but I definitely hear valle blanco, DJ Command, and Rayto influences.
The album is also available digitally on iTunes Japan.
01. Minna no Uta
02. Famires Bomber
03. Midori no Obachan
04. Burn ~Ai no Honoo o Moyase~
05. Aijin 28
06. Pride
07. Anaconda
08. Sakurajima
09. German Power
10. Sex Machinegun
11. 37564
12. Ame no Kawasaki
13. Special Megamix
Pre-order at CDJapan.