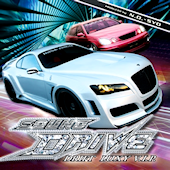 Sound Drive -Drift Luxy V.I.P.-
Artist: N.O.-SYO
Release Date: 12/19/12
Price: 2095 yen
Previously known as Sound Drive 2nd D.L.V., I guess we know what the DLV stood for now. In addition to new tracks, there are also repeats from some of the EPs he's released since the first Sound Drive, as well as remixes from songs from Sound Drive and previous albums. I kinda wish there was more new material, but I'll take whatever N.O.-SYO I can get.
I contacted CDJapan to see if they would be carrying it, but they replied, "Unfortunately, it won't be possible for us to get it supplied. The label is selling it independently, and none of the record company we have dealings with will be able to get it supplied, either." Bummer. Thankfully, HMV Japan and Amazon Japan do have it up for pre-order, and both ship overseas. Hopefully N.O.-SYO will put it up for sale as a digital download, but he never did so with the first Sound Drive. 🙁
01. Last Forever -VeilSide Theme-
02. Journey / feat. LeoFigaro
03. Red Magic (K-Break Theme)
04. Take My Silence (SoundDrive Rmx) / feat. Sin (Shinichiro Suzuki)
05. Yakou (Electro Rock Rmx) / feat. Miya
06. V-DR -T&E Theme- (D1-Rmx)
07. Flash Back / feat. Runa
08. Speed of Time (Digital Metal Rmx) / feat. Ray (from 8-Ball)
09. Hoshi / feat. Miya
10. Moonlight (Electro Rock Rmx)
11. Blue Illusion
12. Gensou Sokkyoukyoku (Fantaisie-Impromptu)
13. Moldau
14. Canon (N.O.-SYO Remix)
15. Etude_No.3 -Wakare no Kyoku- (Hard Rock Vers.)
16. Yume o Oikake Tsuzukete (SoundDrive Remix) / feat. Kei