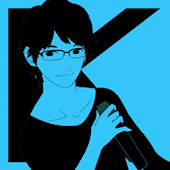 Akiba Koubou presents Utatte Mita Collection Kaito
Artist: Kaito
Release Date: 1/4/13
Price: 952 yen
Seventh wave of Utatte Mita singles from Akiba Koubou. This one features male utaite, Kaito. Surprisingly, 3 out of the 4 tracks are new productions.
The single will be available during Akiba Koubou's Festa New Year Tour 2013.
01. Uchuu Keiji Gavan
02. Balalaika
03. Danbo Sankyoudai
04. Ganbare Dokaben