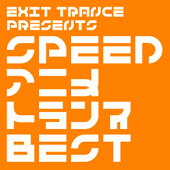 Exit Trance presents Speed Anime Trance Best 19
Release Date: 9/4/13
Price: 1905 yen
The 19th entry in the SATB series will be released in early September, so we'll definitely be getting 3 releases this year instead of the 2 in 2012. No word on a track list yet. Interestingly, if you look at the catalogue number, QWCE-342, you might notice that it's a pretty big jump over the next-highest allocated cataloque number, QWCE-309 (for 164's upcoming album). That means they have at least 30+ other releases already planned. o_O Of course, they'll probably all be Vocaloid albums anyway.
Pre-order at CDJapan.