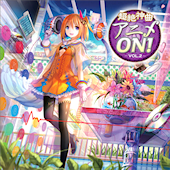 Chouzetsu Kamikyoku Anime On! -Vol. 2-
Release Date: 12/22/13
Price: 1500 yen
A new Akiba Koubou anime compilation that appears to be a tie-up with a live online show called "Anime On!". The opening theme is composed by DJ Command. Available exclusively through Asahi Productions or from AKBK's upcoming New Year's tour.
01. On! Janakuchane? ("Anime On!" Opening Theme) / On! Seiyuutai (Maki Inagaki, Yukari Yamaguchi)
02. Ano Hi Time Machine ("Zoku Natsume Yuujin Chou" yori) / Anima
03. Picchipichi Shizukuchan ("Picchipichi Shizukuchan" yori) / Kanako Miyamoto to Young Fresh
04. Mazinger Z ("Mazinger Z" yori) / Ichirou Kageyama
05. Troublemaker / I My Me Mine (Saki Ano, Yuuki Kuwahara, Hisako Toujou, Yuka Saotome)
06. Orion o Nazoru ("Tiger & Bunny" yori) / Yamadan
07. Winter Blossom ("Uta no Prince-sama" yori) / Noel Narumi
08. Connect ("Madoka Magika" yori) / Usa
09. Nopperudia Clinoppe ("Odoriko Clinoppe" yori) / Dagero
10. Cha-la Head-cha-la (2005 Ver.) ("Dragon Ball Z" yori) / Hironobu Kageyama
11. Chime (AGC38 Chara Son) / Uta: Akane Nagaya (CV: Yuka Watanabe)