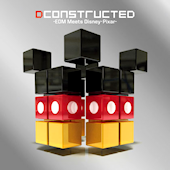 Dconstructed -EDM Meets Disney·Pixar-
Release Date: 6/25/14
Price: 2800 yen
Dconstructed was released in the US in April, both in CD form as well as a digital download, but the Japanese version will have two bonus tracks. Interestingly the subtitle was changed from "EDM Meets Disney" to "EDM Meets Disney·Pixar." The CD release is being advertised as having a "metal" jacket.
01. [5:01] Circle of Life (From "The Lion King"/Mat Zo Remix) / Carmen Twillie & Lebo M.
02. [5:03] Derezzed (From "TRON: Legacy"/Avicii "So Amazing Mix") / Daft Punk
03. [6:19] Let It Go (From "Frozen"/Armin van Buuren Remix) / Idina Menzel
04. [4:19] Roar (From "Monsters University"/Yogi Remix) / Axwell & Sebastian Ingrosso
05. [5:34] Partysaurus Overflow (Inspired by "Partysaurus Rex") / BT & Au5
06. [6:02] UNKLE Reconstruction (Inspired by "The Incredibles") / Michael Giacchino
07. [3:55] Fall (From "TRON: Legacy"/Japanese Popstars Remix) / Daft Punk
08. [3:42] The Muppet Show Theme (From "The Muppets"/Shy Kidx Remix) / The Muppets
09. [5:34] Hey Pluto! (Inspired by original Mickey Mouse cartoons/StoneBridge Remix) / StoneBridge
10. [4:20] Once Upon a Dream (From "Sleeping Beauty"/Trion Remix) / Bill Shirley & Mary Costa
11. [5:49] Main Street Electrical Parade (From Disneyland(R)Park/Extended Mix) / Shinichi Osawa
12. [2:53] You've Got a Friend in Me (From Toy Story/Alfred Montejano Hyper Remix) / Randy Newman
13. [3:08] Baby Mine (From "Dumbo"/Kaskade House Version) / Kaskade
14. [4:05] Pineapple Princess (From "Hawaiiannette"/Kinsey Moore Remix) / Annette Funicello
Japan Only Bonus Tracks
15. [4:19] A Dream Is a Wish Your Heart Makes (From "Cinderella"/Cole Plante Remix) / Ilene Woods
16. [5:23] Let It Go (From "Frozen"/Papercha$er Big Room Remix) / Idina Menzel
Pre-order at CDJapan.