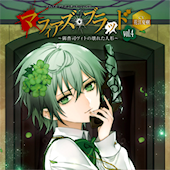 Mafia's Blood ~Onzoushi Vito no Kowareta Ningyou~ Vol. 04
Artist: Natsuki Hanae
Release Date: 8/20/14
Price: 2000 yen
First release in the second trilogy of "Mafia's Blood" drama CDs. The featured voice actor on this volume will be Natsuki Hanae. Check out the official site for more info. If you collect all three releases, you can get a special cardboard case.
Pre-order at CDJapan.