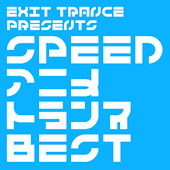 Exit Trance presents Speed Anime Trance Best 22
Release Date: 10/1/14
Price: 2000 yen
It looks like the reports of SATB's death have been greatly exaggerated. The 22nd release in the series lands on October 1, which probably means there'll only be two releases this year after all, but I guess that's better than one. Surprisingly, the album is already listed on the official SATB website. Scheduled tracks include the OP themes from Jojo, Sidonia, and No Game No Life. 20 tracks are scheduled for now, but the last time they said that it turned into 15. Here's hoping they go back to at least 18.
01. Stand Proud (Anime "Jojo no Kimyou na Bouken Stardust Crusaders" OP Theme)
02. Sore wa Bokutachi no Kiseki (Anime "Love Live! 2nd Season" OP Theme)
03. This game (Anime "No Game No Life" OP Theme)
04. Sidonia (Anime "Sidonia no Kishi" OP Theme)
Pre-order at CDJapan.